76%
of C-suite executives say that security and compliance challenges limit their team's ability to innovate.
(Source: CloudBees)
41%
of executives say that security and privacy risks are one of their top three concerns for innovating on the cloud.
(Source: HCL)
Cloud empowers banks and financial institutions to accelerate innovation, infuse artificial intelligence (AI) capabilities into their operations, and launch products faster. However, the security and compliance challenges that come along often slows down innovation on cloud.
Rapid Innovation Operating System (RIOS)
letsbloom RIOS is an operating system for secure cloud innovation. It empowers banks and financial institutions to securely innovate on cloud using confidential data, all while accelerating idea-to-market time.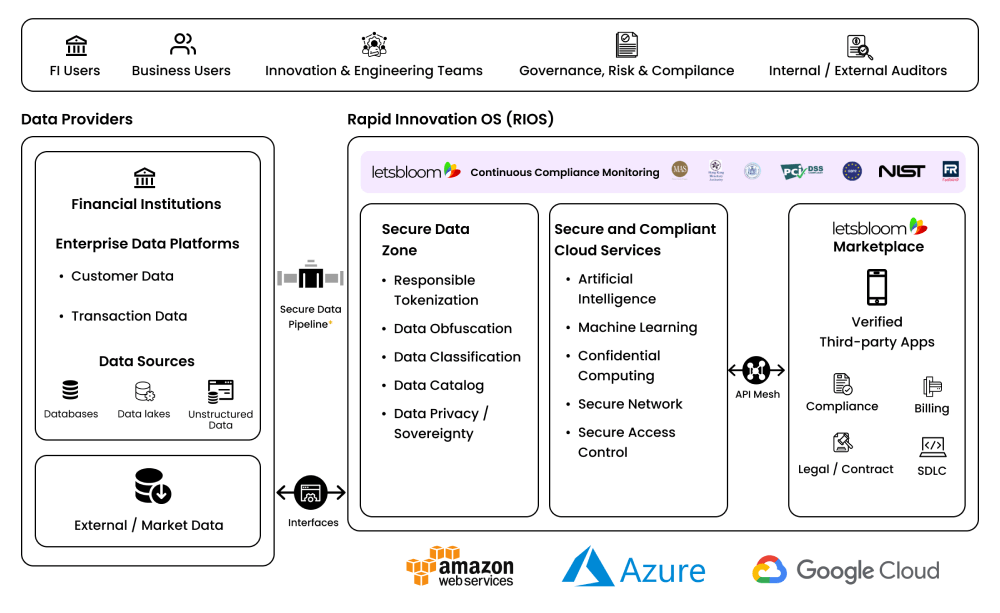 RIOS Key Differentiators
Robust Data Governance
Implement effective end-to-end data governance lifecycle when moving data to the cloud.
Tokenize/obfuscate data at source to minimize data loss risk.
Enforce strict access controls to manage who has access to what data and how it's used.
Manage AI risks by maintaining data transparency and traceability while training AI models.
Continuous Compliance Observability
Gain continuous, near real-time observability of security and compliance posture of your cloud infrastructure and data.
Validate your posture against any regulatory guideline, industry standard or internal policy out-of-the-box.
Easily generate on-demand compliance reporting for all internal/external stakeholders.

Secure and Compliant Infrastructure
Leverage cloud services such as confidential computing infrastructure using compute engine, VMware, Kubernetes Engine, or GPUs.
Deploy high-value managed services for AI/ML, Gen AI and LLMs to generate insights, create new experiences and drive business outcomes.

Marketplace for Applications
Fast-track innovation by accessing a vibrant marketplace of third-party applications.
Collaborate with disruptive technologies from startup and fintech ecosystem.
Securely share data with partners to enable multi-party innovation use cases.
Secure Data Pipelines on RIOS
RIOS Secure Data Pipelines enable you to manage the full lifecycle of your data from on-premises to the cloud, from data identification and classification to tokenization, obfuscation, and secure transfer with access controls. This helps your organization to effectively manage data and AI governance.