Who We Are
We are a group of energetic and solution oriented people, determined to simplify regulatory and compliance processes and cloud adaptation.
At letsbloom, we are enabling organisations operating in regulated industries, such as financial services, healthcare and government, to keep pace with security trends and regulatory demands.
Our trusted infrastructure empowers clients to on-board future-ready, fail-proof applications on any cloud, with security and compliance embedded throughout the application development lifecycle. We help our clients stay 'secure by design' and 'compliant by default'.
Our Vision
Our vision is to empower enterprises with cutting-edge security and compliance services that are tailored to meet the emerging changes in the business landscape.
And we wish to be the only trustable destination for our clients in providing the access to next-wave cyber security in one click.
Our Mission
To accelerate business sustainability with next-level compliance, security, and governance.
We are in business to redefine security compliances with innovation-led technologies.
Investors
letsbloom is backed by SC Ventures, Standard Chartered Bank's fintech innovation, investment and ventures arm. Going by its theme - Security and Compliance for All, SC Ventures funded letsbloom to democratise security and compliance for businesses in regulated industries such as financial services, healthcare, and government.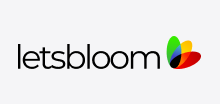 by